The World
2019, teNeues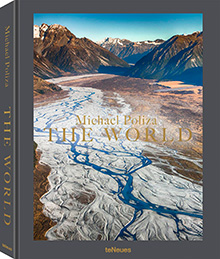 Michael Poliza is more than a seasoned globetrotter who has traveled through almost 170 countries. He is also a collector of the world, always on the lookout for breathtaking landscapes, remote regions, and intact nature reserves. With his camera ever on hand, Poliza does not only want to experience the beauty of the planet, but also to make it accessible to all.
In his two great books, Africa and Eyes over Africa, as well as his single volumes on South Africa, Kenya, and Namibia, Poliza opened our eyes to the diversity of the African continent. In AntArctic, the WWF ambassador created a sensitive double portrait of the polar regions. And in his characteristic aerial photographs, he even opened up new perspectives on well-known places like Mallorca.
Over the last 10 years, Poliza has set out again and again to find, interpret and photograph his favorite places on all seven continents and to collect the pictures in his treasure chest. Now the moment has come to share his remarkable travel portfolio. With this book, we voyage with him to Australia and New Zealand, to Vietnam and Myanmar, to the west of the USA and northern Canada, to Bolivia and the Galapagos Islands, to Antarctica, and through Africa. Together, these pictures form a spectacular portrait of our planet in all its beauty, diversity, and its vulnerability.
38cm x 48,5cm
416 pp., Hardcover
280 color photographs
Text in German and English
Namibia
2018, teNeues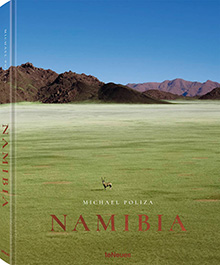 A wonderful book of Namibia photography Captures the scale, colors, and atmosphere of this remarkable country An unmissable travel document from New York Times-acclaimed photographer, Michael Poliza
A vast expanse of a country, more than double the size of Germany, with a population density of just three people per square kilometers, and an incredible diversity of fauna—even in the most extreme environments.
With a booming economy and stable democracy, things are going well in Namibia. Tourism plays a huge role in the country, with some 1.5 million travellers visiting each year to explore and enjoy the country's phenomenal landscapes, wildlife, natural history, and its immense sense of space. This breathtaking Namibia book by New York Times-acclaimed photographer Michael Poliza captures some of the country's most spectacular scenery, from the highest star dunes in the world around Sossusvlei to the NamibRand Nature Reserve, the Namib Desert, and the granite peaks of the Spitzkoppe. Taken from both the ground and the air, more than 100 photographs present the country's nature and wildlife, as well as its indigenous peoples and their ways of life as cattle breeders and smallholder farmers. Poliza's photographs also reveal the astonishing life of the desert, especially after rare rain fall. Oryx antelopes, jackals and giraffes, ostriches and springboks are there, where incredible plants also sprout up and in turn attract their predators; Namibia is also home to some of the "Big Five": lions, leopards, elephants, and rhino, all sharing what little there is to go around in this arid, extraordinary, and delicate ecosystem.
29cm x 37cm
280 pp., Hardcover
134 color photographs
Text in German, English and French
Mallorca
2017, teNeues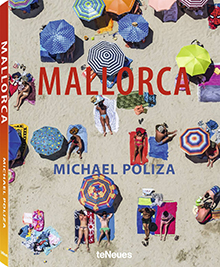 A perceptive and very personal portrait of Mallorca—Michael Poliza's unique photographs and thoughtful selection of motifs makes this so much more than a conventional travel guide The island's stunning variety of landscapes are captured in a single photo book Wherever you live, no matter the season, Poliza's photos will make you long for sunshine and the sea A fresh and unexpected view of the island.
Rich with promise: one of teNeues's most successful and revered artists uncovers an inimitable tourist destination for international travelers. Nature photographer Michael Poliza has already published nearly a dozen books—­including bestsellers like Africa, Eyes Over Africa, and AntArctic—and as an organizer of high-end nature adventure treks, he has a particularly keen sense for unique locations. For his latest tome, he focused on a place of legendary beauty that brims unexpected surprises: ­Mallorca. It's no wonder that Mallorca has certain qualities in common with tapas, the island's culinary specialty. The great thing about tapas is that you don't have to make a meal out of just one ingredient; you can taste a bit of this and have a nibble of that and enjoy a broad spectrum of flavors. And that is the perfect way to describe the vacation mecca of Mallorca, which boasts an attractive mix of old and modern architecture, lively beaches and secluded bays, and the vibrant city of ­Palma and quaint mountain villages. On the ground or from the air, Michael Poliza paints an intimate picture of Mallorca and its most exciting locales—the salt mounds of Es Trenc, Cala sa Nau, the Cap de Formentor lighthouse, and the serpentine road to Sa Calobra—and fulfills his promise magnificently.
25cm x 32cm
224 pp., Hardcover
120 color photographs
Text in German and English
The World´s Most Magical Wilderness Escapes
2015, teNeues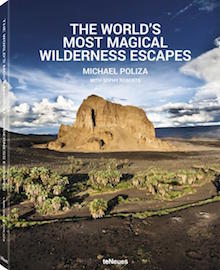 Michael Poliza's wildlife and landscape photography has fascinated us for years, and his photo books of Africa and the polar regions have already captivated tens of thousands of readers. His extensive travels into the most remote corners of the world are the basis for his artistry. The trips made him an expert on magical places where one can experience unspoiled nature, observe and photograph breathtaking landscapes and wild animals, and stay at hidden hideaways far from the beaten tourist path. For more than five years, a few lucky souls have had the pleasure of having the globetrotting Poliza as their personal guide on land, air, and sea. Now his readers can join in on these tours. Stunning photographs paired with useful travel information make this volume a one-of-a-kind experience.
25cm x 32cm
224 pp., Hardcover
203 color photographs
Texts in English, German, French, Spanish, and Italian
AFRICA - Compact Edition
2015, teNeues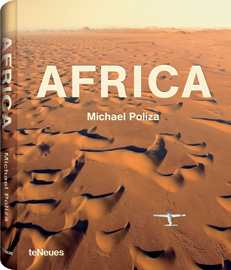 World-renowned photographer Michael Poliza's best-selling book, originally published in 2006, has now been re-released in a smaller format, hardcover edition. A stunning collection of photographs that captures Africa's elegant natural beauty and animal life.
25cm x 32cm
408 pp., Hardcover
180 color photographs
Texts in English, German, French, Spanish, and Italian
KENYA
2011, teNeues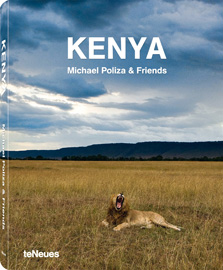 With its diverse landscapes and rich variety of plant and animal species, Kenya is one of the most fascinating and appealing countries in Africa. With spectacular aerial shots, photos of dramatic landscapes, powerful animal studies, and portraits of proud Maasai, this volume captures the spirit of the land and its people. Michael Poliza and fellow photographers Steve Bloom, Paul Mckenzie, and Federico Veronesi masterfully convey the beauty of Kenya, from Lake Turkana and the Chalbi Desert in the North to the Masai Mara National Reserve and Amboseli National Park in the South. Driven by concern for the fragile ecosystems and living cultures of our world, the images in this book link emotions with original compositions and technical perfection.
29cm x 37cm
280 pp., Hardcover with jacket
118 color photographs
Text in English, German, and French
CLASSIC AFRICA
2010, teNeues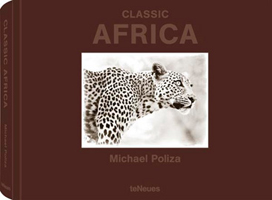 A sensitive storybook of a wonderful country: Classic Africa shows a selection of his favourite pictures, all taken between 2002 and 2010. It's not a simple best-of, while playing around with light and shadows, the images start to become alive. They now leave much more to individual interpretation and personal imagination. The pictures take us back in time and remind us of the days when Africa was little travelled, the habitat for animals was once vast and plentiful and man's influence was barely visible.
34cm x 26cm
288 pp., Hardcover
178 duotone photographs
Text in English, German, French, Spanish and Italian
ANTARCTIC
2009, teNeues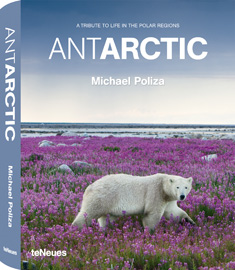 A compelling overview of the most pristine landscapes on the planet A compact "best-of" softcover format at an accessible price Ideal for nature and fine photography enthusiasts Following his stunning photo-safari in Africa and an unprecedented helicopter voyage from Europe to Africa in Eyes over Africa, the award-winning photographer has ventured to the polar regions. With his inimitable blend of intimate close-ups and cinematic landscapes, Poliza leads us through the magical worlds of these frozen paradises most threatened by global warming. Poliza shows polar bears as they frolicked among purple fireweed against the majestic Arctic backdrop, varied and multicolored ice - bergs, as well as a number of rare and endangered species. Poliza once again captures the most vulnerable treasures—still ensconced in our planet's few pristine landscapes.
29cm x 37cm
408 pp., Hardcover
182 double-sided color photographs
Texts in English, German, French, Spanish, and Italian
EYES OVER AFRICA
2008, teNeues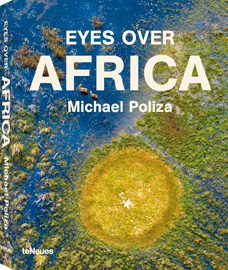 In 2006, to fulfill a long-held dream, widely acclaimed photographer Michael Poliza and friend Stefan Breuer undertook a helicopter journey across Africa. Skimming close to the ground, they flew over 17 countries on their zigzag route from Hamburg to Cape Town. Poliza's alluring—and often surprising—photographs share this exceptional journey with the world. With a bird's-eye view, we witness the astounding beauty, scale and diversity of this imposing continent.
29cm x 37cm
408 pp., Hardcover
181 double-sided color photographs
Text in English, German, French, Spanish and Italian
AFRICA
2006, teNeues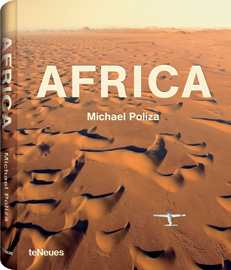 Africa is a source of amazing bio-diversity and home to some of the planet's most spectacular landscapes. The sights of this awe-inspiring continent are captured with consummate skill and sensitivity by master lensman Michael Poliza. With extensive experience photographing the animals and terrain of Africa, Poliza's viewpoint is shaped by his concern for the fragile eco-systems he chronicles. These images embody the soul of Africa's flora and fauna with a true artist's eye for color and composition.
29cm x 37cm
408 pp., Hardcover
180 181 double-sided color photographs
Text in English, German, French, Spanish and Italian