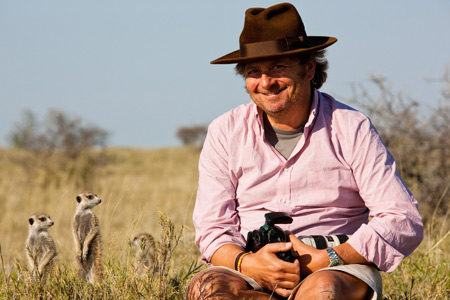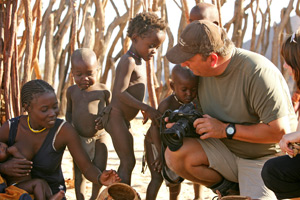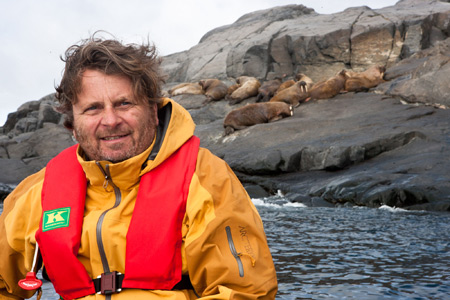 "Discovering and travelling are my passion. I love to be in nature, away from any sign of civilization. Photography taught me to engage in tranquillity again and to wait patiently for a special moment for days in order to understand the rhythm of the wild."
When the New York Times reviewed Michael Poliza's first book on Africa, the author said "it might change the way you think about photography." Poliza is a man accustomed to re-inventing himself: from actor to entrepreneur, from professional photographer to expedition leader and travel designer, he has lived a varied and adventurous life, excelling in all of these diverse environments.
After graduating in 1976 from High School in Dallas, Texas, Michael attended University in Tulsa, Oklahoma, before returning to his birthplace Hamburg. As a teenager he starred in over 100 television and theatre productions and was amongst the best-known actors in Germany.
Following university, he began to work in the IT industry, representing American computer companies in Europe. Seeing the huge potential of information technology, he founded his own IT ventures, having about 120 employees working for him by the time he was 21. In 1997, after an illustrious career leaving him one of the youngest millionaires in Germany, Michael sold his companies for a small fortune in stock with the idea of buying a yacht and sailing around the world. But then the dot.com crash happened, and he lost most of his fortune.
Michael seized the opportunity to embark on a new journey: with what was left he bought a boat that would be the star of an incredible adventure, the "Starship Millennium Voyage" - a three-year, round-the-world multimedia and environmental awareness expedition. Sponsored by SONY, Microsoft, Deutsche Telekom, Olympus and the WWF, the expedition documented the state of the world´s wild locations and broadcasted its findings daily via the Web – a costly but revolutionary idea at the time, which in turn developed an avid following of millions of people around the world.
Michael´s first photo book focused on the discoveries of the Starship Millennium Voyage. Quickly becoming a bestseller, it sold more than 50,000 copies. Michael was one of the pioneering photographers to embrace digital photography, and his Starship book was the very first coffee table book to carry more than 50% digital content.
After that expedition, he returned to the continent that had stolen his heart: Africa. His book by that name was released to massive acclaim around the world in July 2006. Published by art photography specialist teNeues, this was one of the most talked-about photography titles of the time and was voted one of "The Best Coffee-Table Books of 2006" by ABC-TV's Good Morning America. The first print run sold out in three months.
In late 2006, Poliza left on another photographic adventure: an 8-week helicopter journey from Hamburg to Capetown down the east coast of Africa with the purpose of photographing the continent from the air and sharing the bird's eye experience with others. EYES OVER AFRICA showcased cinematic landscape formations, a monumental hommage to the cradle of mankind. The XXL Collector´s Editions at 504 pages and more than 22 inches in height rank among the biggest books ever published.
Following his stunning photo-safaris in Africa, Michael ventured to Antarctica and the Arctic regions. There he captured photos of the frozen paradise for his book ANTARCTIC, a tribute to life in the Polar Regions. Being recognized for his dedication to nature and wildlife around the world, he was nominated Ambassador of the World Wildlife Fund (WWF) in 2009.
Upon his return to Hamburg in 2010, Michael opened a gallery and showroom, giving at least his photography a place to stay for good. Unable to stay away from Africa for too long, he returned to capture the opportunity to explore South Africa's backroads, take a snapshot of the country in the months leading up to the first ever World Cup on African soil and to celebrate this historic event. Incorporating the work of a selection of leading South African photographers he invited to supplement his own material, SOUTH AFRICA not only provided a number of surprising views of the country but it drew Michael's attention back to some of the imagery of his prior years in Africa.
The result was CLASSIC AFRICA, a black-and-white interpretation of his favorite Africa pictures published also in 2010. The German fashion label CLOSED was so fascinated by the striking animal portraits featured in the book that it launched a limited capsule collection with Michael´s photos only a few months later. The next photobook KENYA was published in October 2011, again with a little help from some of his photographic friends.
Mesmerized by the beauty and uniqueness of the wildlife and landscapes captured in his stills, friends started to approach Michael to ask him if they could take part in his photography expeditions. Never tired of accepting new challenges, Michael founded the PURE-shortlisted luxury travel brands "Michael Poliza Private Travel" in 2011 and "Michael Poliza Experiences" in 2012 as a result, taking travel and nature enthusiasts to the most secluded and untouched spots around the world until today.
Over the years Michael Poliza becomes an expert for magical places, where travelers can experience breathtaking landscapes and unspoiled nature first hand. He knows many beautiful and secret hideaways off the main tourist routes. A selection of these places is portrayed in his book THE WORLDS MOST MAGICAL WILDERNESS ESCAPES, published in 2015. It combines great photos with useful information for the reader, who might become a traveller.